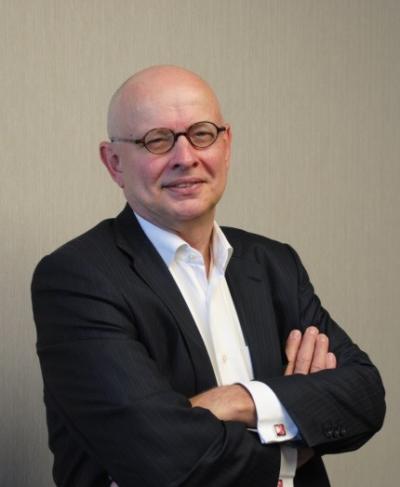 Ken Wilcox earned a PhD in German Studies from Ohio State in 1977, after which he secured a tenure-track position at the University of North Carolina at Chapel Hill. He was the Assistant Chair of the Department and in charge of the undergraduate program in German. Yet these were inflationary times in the United States, and within five years, Dr. Wilcox had lost half of his buying power. He decided to resign and apply to a number of business schools, settling on Harvard.
   "I had a big yard sale, took my 2000 German books to a used book dealer, packed my clothes into my Pontiac Sunbird, and left for Boston."
Dr. Wilcox remembers this as the most difficult transition he had ever been through, but he never looked back. He earned a master's degree in business administration from Harvard Business School and entered the world of banking.
From 2006-2012, Mr. Wilcox was a member of the board of directors of the Federal Reserve Bank of San Francisco. In 2008, Mr. Wilcox was named "Banker of the Year" by American Banker. He earned the distinction of "Entrepreneur of the Year" by Ernst & Young in 2009 and 2010. The Yangpu District of Shanghai has also honored Mr. Wilcox with an "Innovation Contributor Award". In 2013, the Shanghai Municipal Government presented Mr. Wilcox with the "Magnolia Silver Award", a municipal honor given to expatriates for their outstanding contribution to the city's economic, social or cultural development.
Ken Wilcox currently serves as Emeritus Chairman of Silicon Valley Bank and was Vice Chairman of SPD Silicon Valley Bank. Previously, as the CEO of SVB Financial Group, he successfully pursued a strategy of expansion and diversification, while remaining focused on the group's core niches of technology, life sciences, venture capital and premium wineries.
Mr. Wilcox is a member of the Board of the Asia Society of Northern California, the Asian Art Museum, the Equilibrium Capital Group, and Columbia Lake Venture Debt Fund. He is also an adjunct professor and member of International Advisory Board at Fudan University in Shanghai, and an advisor to a number of startups.
"I believe that living in a foreign country and studying a foreign culture are
among the most educational activities one can engage in.
If I had to live my life over again, I would do it pretty much as I have done it this time."
It is an honor to recognize Dr. Ken Wilcox as our 2017 Distinguished Alumnus.