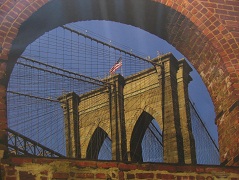 2019-20 Yiddish Courses
Yiddish and Ashkenazic Advising
Professor Gollance
---
Courses in Yiddish language, literature, and culture have been offered at The Ohio State University for some thirty years. In this time, Ohio State has grown to be the premier institution of Yiddish research, teaching, and scholarship in the hemisphere.
Developments within the field, as well as the advent and ascendancy of cultural studies as a disciplinary model, have led the present generation of Yiddish scholars to look beyond the inherited language-and-literature paradigm to one in which Yiddish culture in its various manifestations (linguistic, textual, material, etc.) is viewed as a national culture-the culture of Ashkenaz.
The merger of Yiddish and Ashkenazic Studies with the Department of Germanic Languages and Literatures in the 90's positioned it in an appropriately European context, drawing upon existing strengths (German-Jewish literary and cultural studies, Holocaust studies) within the Department, creating opportunities for creative synergy, and leading the discipline in a direction appropriate for the present historical moment.