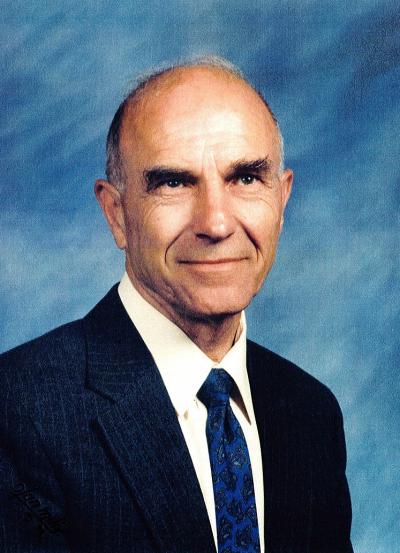 (1935-2022)
LaVern J. Rippley earned a PhD in German Studies from Ohio State in 1965, already then enjoying an assistant professorship at Ohio Wesleyan University in Delaware, 20 miles to the north (1964-1967). During 1965-67, Rippley also taught the evening German classes three nights a week at the OSU branch in Lima, commuting there with a team from other departments by small plane from the OSU airport, on occasion during bad weather landing at the main Columbus airfield. On one such night the pilot of a TWA passenger liner mistook the OSU airport for the commercial airstrip, needing to deplane all itinerants to lighten the Boeing 727 for re-takeoff. Exciting though that mistake evidenced for a few days, Rippley's earlier episode (both for him and his fellow TA graduate students in the German Department) was the Cuban Missile Crisis (20-28 October, 1962). Then an Airborne Special Forces reservist, Sergeant E-5 Rippley was activated to Lockbourne Air Force Base, now Rickenbacker Airport, in preparation for a jump on Cuba's missile sites. Long before satellites shot Google Earth, the paratroopers studied the drop zone with reconnaissance photos taken from 90,000 feet by U-2 airplanes, one of which climbing at 70,000 feet had been shot down. Freighter pilots returning from Key West theorized that the Island would sink due to the heavy weaponry being delivered for the invasion.
Thrilling though the crisis unfolding minute by minute from transistor radios was, more enduring thrills came from Professor Dieter Cunz who with his publications of the Maryland Germans and "Egg Harbor City" inspired Rippley toward research in German-Americana. Even before completing his dissertation, Rippley was working on both "The Chillicothe Germans" for Ohio History magazine and "The Columbus Germans" published by an Indiana press as a small book. Likewise thrilling were the seminars by Oskar Seidlin who engaged him in a life-long rendezvous with German Romanticism and the German Novelle, which in turn he taught some two dozen times. Equally Pentecostal was Seidlin's seminar on Gerhart Hauptmann that led to Rippley's article ""Dramatic Structure in Gerhart Hauptmann's Florian Geyer," in which e.g. the dramatist changed the historical dates of the Peasant's Uprising to fit his chosen Easter-Pentecost time structure, first issued in the Dayton Review, later re-published in Twentieth-Century Literary Criticism, Volume 300. In the course of his career Rippley authored, edited or translated some 18 books, e. g. The Chemnitzer Concertina: A History and an Accolade, and German-Bohemians: The Quiet Immigrants as well as Immigrant Wisconsin, penned 142 articles in various journals, plus presented 227 academic papers and lectures at conferences as well as contributed over 280 book reviews. His many awards include NDEA, DAAD, NEH, Ford Foundation, and Honorary Member since 1910 of the AATG Distinguished Germanist Specialists. [https://www.aatg.org/page/HonoraryMembers] For 31 years Rippley edited and produced the quarterly newsletter of the Society for German-American Studies, having served also as president.
Yet the greatest gift and strongest impetus to Rippley as a Germanist was that both Department Chair Dieter Cunz and Professor Oskar Seidlin urged applying for a Fulbright Fellowship which culminated with a year-long study besides dissertation opportunity at the University of Munich. Life was good there! His wife Barbara Jean took a leave from her high school teacher position in Columbus, then the couple crossed the Atlantic on the aging Norddeutscher Lloyd Berlin; immediately the Rippleys bought a small French Simca car. With an exchange rate 4.25 DM to the dollar, plus the fellowship carrying a greater allowance than the student monthly, the Rippleys travelled all of Germany. Exhilarating if somewhat hazy in these years after the Berlin Wall had been erected in 1961 was the "Kennedy Berliner" speech on June 26, 1963 causing Germans west and east to dignify and honor American students. The assassination on November 22 that year intensified the welcome, an event Rippley recalls, having gone to the opera the night before, the shooting occurring about 8:30 PM; the next morning about five after the hour, Munich radio spoke "we now return to somber music in dignity for the passing of the American Chief Executive." Their landlady would fill them in. For the next 12 days, black streamers swathed the 325-ft. towers of the Frauenkirche. So glorious was the Fulbright experience that after several successful careers, the Rippleys gave a two million dollar grant matched by an anonymous philanthropist for the four-million Rippley Foundation at St. Olaf College, famous for its study abroad program. Managed by the student aid office, some 90 scholars receive assistance each year.
The year 1967 re-directed Rippley's career path when he accepted an associate professorship and chair of the seven-member German department at St. Olaf College in Northfield. Full professor with tenure arrived three years later along with two children. The Kent State shooting in 1970, the Vietnam War protests which trickled into academia brought changes when, after Rippley's seven years as chair, the faculty voted to set chairs on a three-year rotation. Though he later served many chair stints at St. Olaf, after the first departure he felt under-employed and thus sought a Real Estate license, then a Real Estate Broker's license and finally a Full Contractor's license with developer status. This capability, though demanding, proved bountiful with crews in a pyramidal system of rentals, sales and housing facilities. Over the decades, therefore, Rippley was involved with well over 100 structures, a number of which housed neighboring Carleton College attendees (never renting to St. Olaf students). Meanwhile Rippley served on the Northfield School Board. However it was the construction-rental business that enabled funding the study abroad endowment at St. Olaf College as well as major grants to the Northfield YMCA and its citywide Women's Center.
A like sense of entrepreneurialism lay behind academic initiatives Rippley undertook at St. Olaf, establishing a summer institute for teachers of German running from 1970 on campus, but expanding to summer seminars in East and West Germany, ending in 1989 when the wall fell. Thereafter the focus shifted to the St. Olaf January Interim when in 1997 Rippley, assisted by a professor from the Economics department, crafted a course open to students campus-wide called the Mare Balticum, using a theme of "die Hanse." Although enrollment started with 17 the course quickly attracted up to 100 applicants each time limiting the enrollment to 50 by bus capacity each of the 15 times offered. This 32-day program began in Hamburg then moved to Lübeck, Wismar, Stralsund, Stettin, Penemünde, Danzig, Königsberg (Kaliningrad), Vilnius, Riga, Tartu, Tallinn and Helsinki ending in Stockholm. Generated by Ohio State's German faculty with a Fulbright and continued by St. Olaf's initiative for study abroad, Rippley's organizational and business talents perpetuate the German-American experience.
It is an honor to recognize Professor LaVern J. Rippley as our 2019 Distinguished Alumnus.