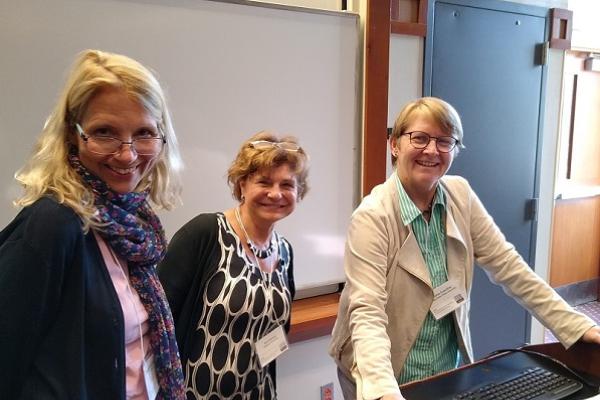 October 8, 2022
8:30AM - 6:30PM
Blackwell Inn - Pfahl Conference Center on the Ohio State main campus
Add to Calendar
2022-10-08 07:30:00
2022-10-08 17:30:00
2022 Ohio German Studies Workshop [OGSW]
In 2022, the Department of Germanic Languages and Literatures at The Ohio State University will continue its initiative for German Studies involving all faculty at colleges and universities throughout the state. The Ohio German Studies Workshop (OGSW) is designed as a forum for Ohio German Studies and an opportunity for colleagues across the state to become better acquainted with each other, with the research that is being conducted in German Studies, and with the issues that we all face as German scholars in higher education institutions in the twenty-first century. This year, we meet for the 8th time! Saturday, 8. October, 2022 Blackwell Inn, Pfahl Conference Center, Room 202 2110 Tuttle Park Place, View on map   Note: please use the Valet Service upon arriving in order for the Parking Voucher, which will be available inside at the OGSW registration table, to be valid. download this year's program: File 2022 OGSW Program - The Ohio State University Department of Germanic Languages and Literatures69.47 KB Previous OGSW Programs Forum: October 24, 2020  "Teaching in Times of Multiple Crises" via Zoom: • Elizabeth Hamilton (Oberlin): Liberal arts language departments right now: administrative and faculty perspectives  • Evan Torner (UC): Challenges and opportunities in the UC German undergraduate program  • Kristie Foell (BGSU): German education in the age of coronavirus: online teaching and study abroad. Topical focus: the wave of restructurings and firings of faculty resulting from the pandemic and how we can take a proactive approach  • Cynthia Porter (Denison U): Addressing racial injustice in the German classroom • Margaretmary Daley (Case Western): Zoom in small enrollment courses Forum: September 28, 2019OGSW Program_2019 Forum: October 20, 2018OGSW Program_2018 Forum: October 14, 2017OGSW Program_2017 Forum: October 22, 2016OGSW Program_2016 Forum: November 14, 2015OGSW Program_2015 Forum: October 11, 2014OGSW Program_2014
Blackwell Inn - Pfahl Conference Center on the Ohio State main campus
OSU ASC Drupal 8
ascwebservices@osu.edu
America/New_York
public
Date Range
Add to Calendar
2022-10-08 08:30:00
2022-10-08 18:30:00
2022 Ohio German Studies Workshop [OGSW]
In 2022, the Department of Germanic Languages and Literatures at The Ohio State University will continue its initiative for German Studies involving all faculty at colleges and universities throughout the state. The Ohio German Studies Workshop (OGSW) is designed as a forum for Ohio German Studies and an opportunity for colleagues across the state to become better acquainted with each other, with the research that is being conducted in German Studies, and with the issues that we all face as German scholars in higher education institutions in the twenty-first century. This year, we meet for the 8th time! Saturday, 8. October, 2022 Blackwell Inn, Pfahl Conference Center, Room 202 2110 Tuttle Park Place, View on map   Note: please use the Valet Service upon arriving in order for the Parking Voucher, which will be available inside at the OGSW registration table, to be valid. download this year's program: Previous OGSW Programs Forum: October 24, 2020  "Teaching in Times of Multiple Crises" via Zoom: • Elizabeth Hamilton (Oberlin): Liberal arts language departments right now: administrative and faculty perspectives  • Evan Torner (UC): Challenges and opportunities in the UC German undergraduate program  • Kristie Foell (BGSU): German education in the age of coronavirus: online teaching and study abroad. Topical focus: the wave of restructurings and firings of faculty resulting from the pandemic and how we can take a proactive approach  • Cynthia Porter (Denison U): Addressing racial injustice in the German classroom • Margaretmary Daley (Case Western): Zoom in small enrollment courses Forum: September 28, 2019 OGSW Program_2019 Forum: October 20, 2018 OGSW Program_2018 Forum: October 14, 2017 OGSW Program_2017 Forum: October 22, 2016 OGSW Program_2016 Forum: November 14, 2015 OGSW Program_2015 Forum: October 11, 2014 OGSW Program_2014
Blackwell Inn - Pfahl Conference Center on the Ohio State main campus
Department of Germanic Languages and Literatures
germanic@osu.edu
America/New_York
public
In 2022, the Department of Germanic Languages and Literatures at The Ohio State University will continue its initiative for German Studies involving all faculty at colleges and universities throughout the state. The Ohio German Studies Workshop (OGSW) is designed as a forum for Ohio German Studies and an opportunity for colleagues across the state to become better acquainted with each other, with the research that is being conducted in German Studies, and with the issues that we all face as German scholars in higher education institutions in the twenty-first century. This year, we meet for the 8th time!
Saturday, 8. October, 2022
Blackwell Inn, Pfahl Conference Center, Room 202
2110 Tuttle Park Place, View on map
 
Note: please use the Valet Service upon arriving in order for the Parking Voucher, which will be available inside at the OGSW registration table, to be valid.
download this year's program:
---
Previous OGSW Programs
Forum: October 24, 2020 
"Teaching in Times of Multiple Crises"
via Zoom:
• Elizabeth Hamilton (Oberlin): Liberal arts language departments right now: administrative and faculty perspectives 
• Evan Torner (UC): Challenges and opportunities in the UC German undergraduate program 
• Kristie Foell (BGSU): German education in the age of coronavirus: online teaching and study abroad. Topical focus: the wave of restructurings and firings of faculty resulting from the pandemic and how we can take a proactive approach 
• Cynthia Porter (Denison U): Addressing racial injustice in the German classroom
• Margaretmary Daley (Case Western): Zoom in small enrollment courses
Forum: September 28, 2019
OGSW Program_2019
Forum: October 20, 2018
OGSW Program_2018
Forum: October 14, 2017
OGSW Program_2017
Forum: October 22, 2016
OGSW Program_2016
Forum: November 14, 2015
OGSW Program_2015
Forum: October 11, 2014
OGSW Program_2014
---