Image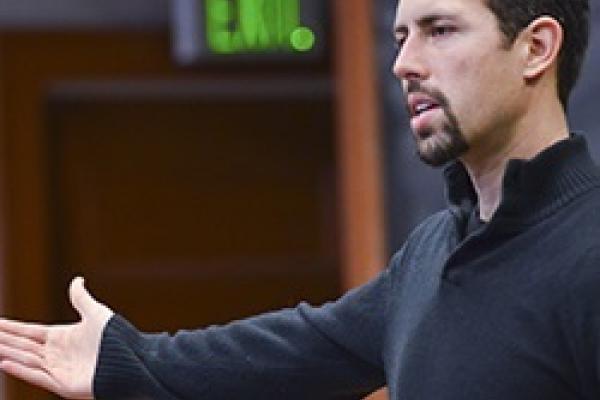 October 2, 2017
4:00PM - 5:30PM
Location
18th Ave. Library, 175 W. 18th, Room 205
Date Range
Add to Calendar
2017-10-02 16:00:00
2017-10-02 17:30:00
Lecture: Benjamin Teitelbaum, University of Colorado
Dr. Benjamin Teitelbaum, assistant professor, ethnomusicology, presents The Meaning of Nonsense: Vocable Singing and Rightwing Melancholia in Neofolk. Dr. Teitelbaum's talk examines the prevalence of vocable singing ("la-la-la," "do-do-do") in neofolk—a shrouded music genre associated with the contemporary radical right. He links this musical feature to a brand of ultraconservatism that deems liberal society as fated to collapse and that advocates withdrawal, secrecy and self-preservation for the committed anti-liberal. Teitelbaum's analysis highlights not only the communicative potential of so-called "nonsense syllables" in song, but also the shifting ideological and methodological terrain of the western radical right.  Benjamin R. Teitelbaum is assistant professor of ethnomusicology at the University of Colorado–Boulder, and author of Lions of the North: Sounds of the New Nordic Radical Nationalism (Oxford 2017). His research focuses on western ultraconservatism, music in the Nordic countries, and music and politics.Co-sponsored by the School of Music, African American and African Studies, Comparative Studies, French and Italian, Germanic Languages and Literatures, the Global Mobility Project, the Office of International Affairs, and the Ethnomusicology Program.Lectures in Musicology is co-sponsored by The Ohio State University Libraries.Lectures are held Mondays at 4 p.m. in the 18th Avenue Library, 175 W. 18th Ave. (Music/Dance Library, second floor, room 205), unless otherwise noted. These events are free and open to the public.Campus visitors, please use either the Tuttle Park Place Garage or the Ohio Union South Garage. All other garages in the vicinity of the 18th Ave. Library are closed to visitors before 4 p.m.Upcoming Musicology Events
18th Ave. Library, 175 W. 18th, Room 205
OSU ASC Drupal 8
ascwebservices@osu.edu
America/New_York
public
Date Range
Add to Calendar
2017-10-02 16:00:00
2017-10-02 17:30:00
Lecture: Benjamin Teitelbaum, University of Colorado
Dr. Benjamin Teitelbaum, assistant professor, ethnomusicology, presents The Meaning of Nonsense: Vocable Singing and Rightwing Melancholia in Neofolk. Dr. Teitelbaum's talk examines the prevalence of vocable singing ("la-la-la," "do-do-do") in neofolk—a shrouded music genre associated with the contemporary radical right. He links this musical feature to a brand of ultraconservatism that deems liberal society as fated to collapse and that advocates withdrawal, secrecy and self-preservation for the committed anti-liberal. Teitelbaum's analysis highlights not only the communicative potential of so-called "nonsense syllables" in song, but also the shifting ideological and methodological terrain of the western radical right.  Benjamin R. Teitelbaum is assistant professor of ethnomusicology at the University of Colorado–Boulder, and author of Lions of the North: Sounds of the New Nordic Radical Nationalism (Oxford 2017). His research focuses on western ultraconservatism, music in the Nordic countries, and music and politics.Co-sponsored by the School of Music, African American and African Studies, Comparative Studies, French and Italian, Germanic Languages and Literatures, the Global Mobility Project, the Office of International Affairs, and the Ethnomusicology Program.Lectures in Musicology is co-sponsored by The Ohio State University Libraries.Lectures are held Mondays at 4 p.m. in the 18th Avenue Library, 175 W. 18th Ave. (Music/Dance Library, second floor, room 205), unless otherwise noted. These events are free and open to the public.Campus visitors, please use either the Tuttle Park Place Garage or the Ohio Union South Garage. All other garages in the vicinity of the 18th Ave. Library are closed to visitors before 4 p.m.Upcoming Musicology Events
18th Ave. Library, 175 W. 18th, Room 205
Department of Germanic Languages and Literatures
germanic@osu.edu
America/New_York
public
Description
Dr. Benjamin Teitelbaum, assistant professor, ethnomusicology, presents The Meaning of Nonsense: Vocable Singing and Rightwing Melancholia in Neofolk.

Dr. Teitelbaum's talk examines the prevalence of vocable singing ("la-la-la," "do-do-do") in neofolk—a shrouded music genre associated with the contemporary radical right. He links this musical feature to a brand of ultraconservatism that deems liberal society as fated to collapse and that advocates withdrawal, secrecy and self-preservation for the committed anti-liberal. Teitelbaum's analysis highlights not only the communicative potential of so-called "nonsense syllables" in song, but also the shifting ideological and methodological terrain of the western radical right.  

Benjamin R. Teitelbaum is assistant professor of ethnomusicology at the University of Colorado–Boulder, and author of Lions of the North: Sounds of the New Nordic Radical Nationalism (Oxford 2017). His research focuses on western ultraconservatism, music in the Nordic countries, and music and politics.
Co-sponsored by the School of Music, African American and African Studies, Comparative Studies, French and Italian, Germanic Languages and Literatures, the Global Mobility Project, the Office of International Affairs, and the Ethnomusicology Program.
---
Lectures in Musicology is co-sponsored by The Ohio State University Libraries.
Lectures are held Mondays at 4 p.m. in the 18th Avenue Library, 175 W. 18th Ave. (Music/Dance Library, second floor, room 205), unless otherwise noted. These events are free and open to the public.
Campus visitors, please use either the Tuttle Park Place Garage or the Ohio Union South Garage. All other garages in the vicinity of the 18th Ave. Library are closed to visitors before 4 p.m.
---