Image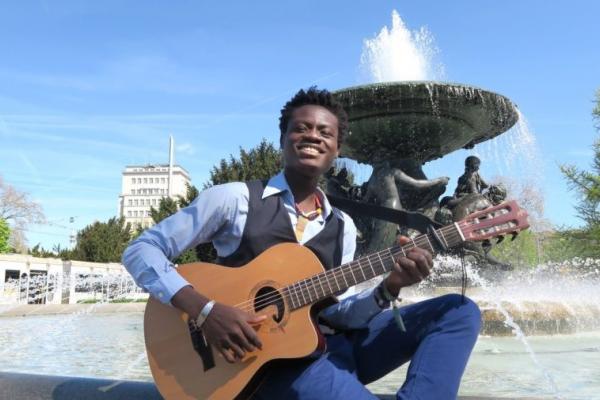 March 19, 2018
All Day
Location
Arps 388, main campus
Description
photo: (c)Neustadtticker, Dresden
---
Music in Foreign Language Education: Learning German through Music in Ougadougou, Burkina Faso
Ezé's research focuses on the use of music in German Foreign Language Education to assess the competences of music as a didactical instrument. In his presentation, he will share his results from a case study in Ouagadougou, Burkina Faso, in which he practiced and assessed the impact of learner's engagement with music in the language acquisition process. He will discuss how this teaching methodology is accommodated by and has impacted language acquisition in Burkina Faso.
Building on his competences as a foreign language educator in Ouagadougou, Ezé studied the influence of integrating music into German language learning to build new ways to engage with the German language and culture in the area. Through his analysis and practice, Ezé provides local educators with new ways to engage local practices of music production with learning German. With that, he hopes to broaden the didactical and methodological toolkit of local educators, and increase the importance of education in socially disadvantaged communities. Ezé will present innovative examples of how he integrated the work by German musicians Annenmaykantereit and German folk songs like "Dat du min leevsten büst" that he tested with students in Burkina Faso. As an educator, Ezé aims to develop new ways for teachers and learners to get a "feeling" for different cultures in foreign language education by learning how to "feel" and build understanding through music. To him, music is an important tool that can create meaningful connections between people, transport culture and awareness for differences.
For more: https://u.osu.edu/ezewendtoin/ 
Mr. Ezé Wendtoin's stay at The Ohio State University and in the Ohio area is sponsored by the Department of Germanic Languages and Literatures, the School of Music, the Undergraduate Studies Committe in AAAS, the CLLC, and the Dresden Sister City, Inc.
---