November 23, 2022
Alexander Kling to visit in SP23
Image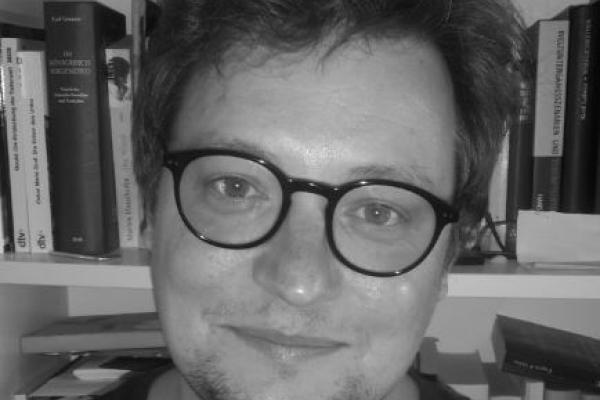 Description
Alexander Kling is a postdoctoral research fellow for Modern German Literature at the University of Bonn. He is currently working on a book with the title Aus-dem-Rahmen-fallen. Eine Literaturgeschichte der Dingkomik (Romantik – Realismus – Moderne). The book explores the comedy that arises with and through things, for example by dealing with them, but also by their appearance (for instance in grotesque or defamiliarized form). The focus of the book is on the 19th and early 20th century, so the study is also an exploration of literary slapstick in the run-up to the slapstick film. Furthermore, the book asks whether and how the forms and appearances of thing-comedy (Dingkomik) change through the different literary periods and programs of the time (Romanticism, Realism, Early Modernism). 
Kling's first book was situated in the field of Animal Studies. The book analysis the extinction of the wolves in the 17th and 18th century, from the Thirty Years' War to the French Revolution. In addition to the examination of texts from philosophy, natural history or hunting literature, the book argues that literature is also involved in this history of extinction. 
Further research interests of Alexander Kling are situated in die fields of Ecocriticism, literary and political theory, nonfiction literature and the literature of Franz Kafka. 
At Ohio State, Kling will teach a seminar on comedy and humour in the writings of Karl Marx (together with Paul Reitter). 
Selected Publications (Monograph and Co-edited books) 
 
Unter Wölfen. Geschichten der Zivilisation und der Souveränität vom 30-jährigen Krieg bis zur Französischen Revolution. Freiburg/Br. 2019. 
Kafkas Zeiten. Würzburg 2023 (Forschungen der deutschen Kafka-Gesellschaft, Volume 7) (ed. together Johannes F. Lehmann). 
Texte zur Tiertheorie. Stuttgart 2015 (ed. together with Roland Borgards und Esther Köhring). 
Robinsons Tiere. Freiburg/Br. 2016 (ed. together with Roland Borgards und Marc Klesse). 
Das Verhältnis von res und verba. Zu den Narrativen der Dinge. Freiburg/Br. 2018 (ed. together with Martina Wernli). 
Non Fiktion. Arsenal der anderen Gattungen 16/1 (2021), Thema: Ökologie (ed. together with Christian Meierhofer). 
Zeiten der Materie. Verflechtungen temporaler Existenzformen in Wissenschaft und Literatur (1770-1900). Hannover 2021 (ed. together with Jana Schuster). 
Stephan Schütze: Versuch einer Theorie des Komischen. Mit weiteren komiktheoretischen Texten Schützes, Einleitung, Schriftenverzeichnis und Anmerkungen. Hamburg 2022 (ed. together with Johannes F. Lehmann). 
 
---