April 12, 2023
Hats Off to our 2023 departmental award winners!
Image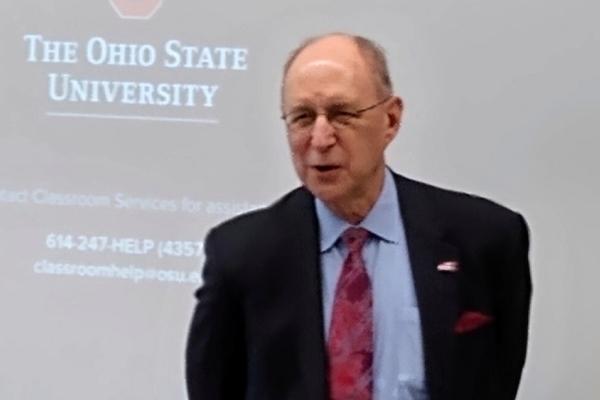 Description
We proudly salute the student recipients of the department's annual awards this year.
The 2023 Wolfgang Fleischhauer Scholarship of $5,000 was awarded to Megan Miller, who double majors in German and International Studies. Her interest lies in the subject of intelligence services as well as its impact on Germans and German culture. To write her senior thesis, she will go through the research of Alexander Stephan and the 14,000 documents and 50 dossiers, housed in our Thompson Library, that he used in writing Communazis.
We would like to express our deepest thanks to Dr. Robert F. Gagel for his generosity in establishing the Robert F. Gagel/Margo Cox Endowment Fund and the Professor Wolfgang Fleischhauer Scholarship.
Lisa Vogeler received the Dieter Cunz Award for Outstanding Graduating Senior in German to recognize her leadership in the program and her outstanding academic achievements. Her nominators describe her as "an exemplary student in class, and a thoughtful and committed researcher" and "an outstanding citizen in our German program, impressive in her commitment to extracurricular activities such as Stammtisch and German Day."
The Undergraduate Project Award in German was won by Adam Rahl, who is double majoring in German and Biochemistry, for his impressive one-act script, a modernization of Frank Wedekind's Frühlings Erwachen, orginally published in 1891.
The Undergraduate Project Award in English was won by Jenna Ciolino, who is triple-majoring in German, International Studies, and Translation & Interpretation, for her impressive poster project, Finding Family: Discovering the life of a Lithuanian family before, during, and after World War II.
This year's Distinguished Teaching Award in GLL went to Josh Kramer, who was nominated for his dedicated service to our undergraduate students in German language courses. Josh was also selected as the 2023-24 Max Kade Dissertation Fellow and will continue working on his dissertation next year. 
Last but not least, Cordelia K. Howard, an International Business major and German minor, has been selected to receive the 2023 Ilsedore Edse Study Abroad Scholarship. She plans to study at WHU, Otto Beisheim School of Management in Vallendar, Germany this summer!
Congratulations to our departmental award recipients and thank you to everyone who came out to show their support!
For a full look at all of the spectacular achievements of our majors and minors, take a look at our full listing of Germanic student awards and honors below:
---