October 3, 2022
"Kaffeestunde" and Oktoberfest in Columbus
Image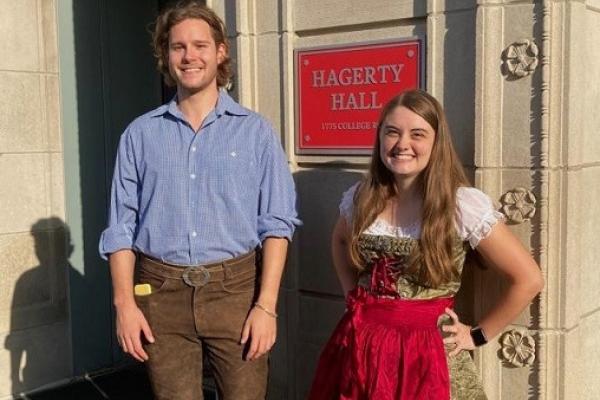 Description
  Kaffeestunde is back! After a long break over the summer, the Max Kade German House is hosting Kaffeestunde again, which takes place every Friday from 4:30pm to 5:30pm. With free coffee, cookies, and other savory snacks, everyone interested in conversing in German can sit down, meet new people and talk about everything and anything. Here are a few impressions from the first Kaffeestunde:
  After the first Kaffeestunde of the term, the German Club and our graduate students visited Oktoberfest here in Columbus. In two barns decorated with German and Bavarian flags, they enjoyed a special Hofbräuhaus-beverage and Bratwurst with Sauerkraut, and they spotted an abundance of traditional Bavarian apparel. Of course, our Graduate Students contributed to an authentic backdrop by wearing the traditional "Dirndl" and "Lederhosen" themselves. Perhaps, the Columbus Oktoberfest was a perfect preparation for a visit of the more authentic festivity in Munich.  
  Ja, autumn is the time to wear Tracht in certain German-speaking regions and in spots right here in Ohio that were settled by German-speaking immigrants in the 19th and 20th centuries (Columbus, Cincinnati, Cleveland, etc.) where the traditional autumn festivities take place.
[Foto] Two of our graduate students, Haley Grubb and Gustav Grimm, wear traditional garb in front of Hagerty Hall.
---