April 18, 2022
Uskokovic Defends Her Dissertation
Image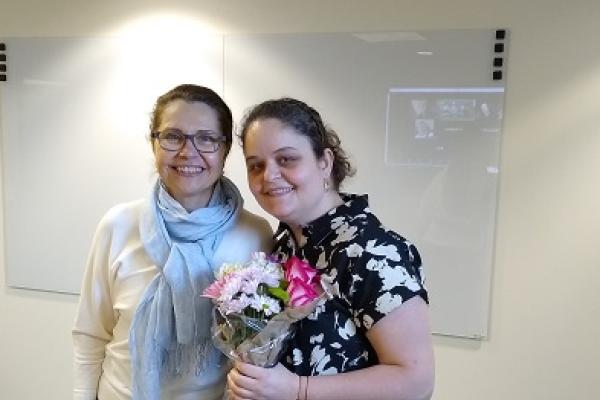 Description
Hearty congratulations to Budimka for successfully defending on April 11th!
Budimka Uskokovic's dissertation, Intercultural Communicative Competence in German: A Conversation Analytic Approach, focuses on the development of intercultural communicative competence (ICC) in learners of German language and how interculturality is organized in situ in video-mediated environment between learners of German and German native speakers.
In her dissertation, she identifies and analyzes intercultural moments and shows how L2 speakers use a variety of strategies to overcome linguistic and cultural obstacles in real-time conversations. Her analysis illustrates that interculturality is constituted in and through the actual course of the interaction making cultural identities relevant and that reflections (Byram, 1997, 2021) need to be accompanied by transcripts for students to gain a better insight into their own ICC. Based on her findings, she develops a new approach to teaching ICC where interaction lies at the core of L2 speakers' skills and thereby helps German language educators better understand L2 speakers' linguistic abilities and achievements in a third semester German course and how to linguistically and culturally prepare their students for more meaningful and effective intercultural encounters with native speakers.
Advisor: Prof. Carmen Taleghani-Nikazm
Committee members:
Prof. Matthew Birkhold
Prof. Ludmila Isurin (Slavic and East European Languages and Cultures)
Prof. Leslie Moore (Teaching & Learning and Linguistics)

And a special thank you to Prof. Susan L. Kline (School of Communication)
---