March 9, 2020
Germanic undergraduates rock the Denman Research Forum
Image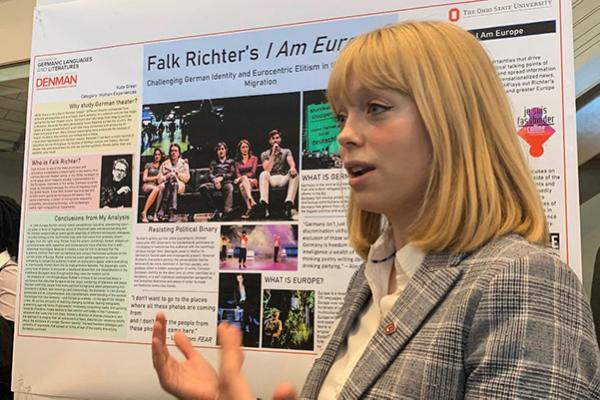 Description
GLL undergraduates stole the show at the 25th Anniversary Denman Research Forum, taking the first place in one category and the first and third places in another!  
 
Megan Wadas took top honors in the Education and Languages category for her work on "Stereotypes and Language Attitudes: Examining the Perception of German 'Harshness,'" mentored by Professor Carmen Taleghani-Nikazm.
 
Kate Greer took home the gold in the Human Experiences category with her study on "Falk Richter's I am Europe: Challenging German Identity and Eurocentric Elitism in the Era of Mass Migration"; Elena Akers captured the bronze with "Nature Metaphors in Contemporary German Right-Leaning Immigration Discourse on Twitter." Professors John Davidson and Matthew Birkhold serve as the mentors for these projects respectively.
This year, there were 300 students whose projects were presented and judged at the forum.
Congratulations to these extraordinary students for this well-deserved recognition!
---