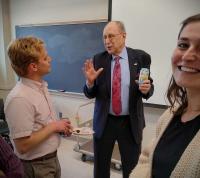 Over 400 students enroll in German language courses every semester at Ohio State, ensuring that our graduate students have the opportunity to teach all levels of German language. In addition, graduate students are often asked to help teach upper-level literature and film courses, such as "Grimms' Fairy Tales" and "The Holocaust in Film and Literature." Outside the classroom, graduate students organize the popular undergraduate Kaffeestunde.
As one of the nation's foremost German programs in Graduate Teaching Assistant development, we provide MA and PhD students with excellent teacher training and comprehensive knowledge of second language acquisition. This professional education is further supplemented by an extensive mentoring system. The Department also pays for students to earn the official TestDaF certification.
The widespread interest in German at Ohio State makes certain that our graduate students who desire have the opportunity to conduct their own research in second language studies. Our department is home to leading faculty in the field who are conducting cutting-edge research on issues ranging from cross-cultural pragmatics to web chats. In 2017, Ohio State hosted the Second Language Research Forum, which will bring over 100 researchers from around the world to our campus. Students can also join the Foreign Language and Teaching (FLRT) graduate student group, earn the technological certificate of the CLLC, and utilize the resources of the Drake Institute for Teaching and Learning.
All students are trained in communicative language teaching and second language acquisition. Our graduates are prepared to teach all levels of German, large lectures and specialized seminars.
Students at Ohio State may elect to pursue a Graduate Interdisciplinary Specialization in Second Language Studies. Through this program, students examine how second languages are learned and used from linguistic, psychological, and socio-cultural standpoints. This GIS in second language studies offers graduate students the opportunity to enhance their professional experience by providing them with a theoretical and practical background in the important and rapidly growing field.